Used Book Sale
Friends of St. Charles Public Library Used Book Sale
Fall Book Sale 
Friday, October 20, 2023 • 2:30-7:30 p.m.
Saturday, October 21, 2023 • 9:00 a.m.-3:00 p.m.
Sunday, October 22, 2023 • Noon-3:00 p.m.
The book sale will include paperbacks, hardcovers, CDs, DVDs, videos, audiotapes and more.  Shoppers are invited to stock up for fall reading at bargain prices. Sales are held in the Huntley Community Room at the Library.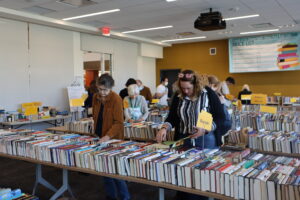 Book Sale FAQs
Books and other items are donated by the public or withdrawn from the Library collection. Books may be dropped off at the circulation desk.  For large donations please call ahead so staff can be available to accept your donation 630-584-0076.
Hardcover & paperback
Children's books
CDs; DVDs; LPs
Puzzles; video games
Unable to Accept

Encyclopedia sets
National Geographic & other magazines
Reader's Digest publications
Audio cassettes
Books vary from sale to sale depending on donations but those usually available include Fiction, Non-Fiction, Children's, Young Adult, Cookbooks, Gardening, Travel, Hobby & How-to, History, Religion, Health & Fitness, Science Fiction/Fantasy, Westerns, DVDs, CDs, Audiobooks & other media.
With some exceptions books are priced as follows:
$2.00  Hardcover (or as marked)
$1.00   Paperbacks
$2.00   DVDs, CDs, Audiobooks
$1.00   Picture Books/Chapter Books
$1.00 Puzzles/Kits
Sunday Bag Sale
$15   cloth Library bag (fill the cloth bag with books)
Payments
We accept cash, checks and Visa, MasterCard Debit/Credit cards.
Due to a large number of books and limited aisle space we ask:
Please do not block aisles with stacks of books or bags
Please don't sit on the floor to decide on selections; it blocks the aisles
Do not pull out quantities of books to examine.  Pick out the book you want and keep it in your stack
Booksellers may use scanners as long as they follow the above rules and do not interfere with other people's shopping
***Attention Book Sellers.  Illinois sales tax is now included in the price of each book.  If you collect sales tax, we will need a copy of your Certificate of Registration for our files.  We will be unable to deduct the tax without the certificate.
Funds raised by our twice-yearly book sales, including lobby book sales, and the sale of items such as Library book bags, all benefit the Library. Because of help from the Friends, the Library is able to use taxpayer revenue for books and other essential items while still offering many programs and services.
If you'd like to help at a book sale, the Friends would love to have you.  Just download and fill out the online form below and become a Friend today!