STC Creative: Makerspace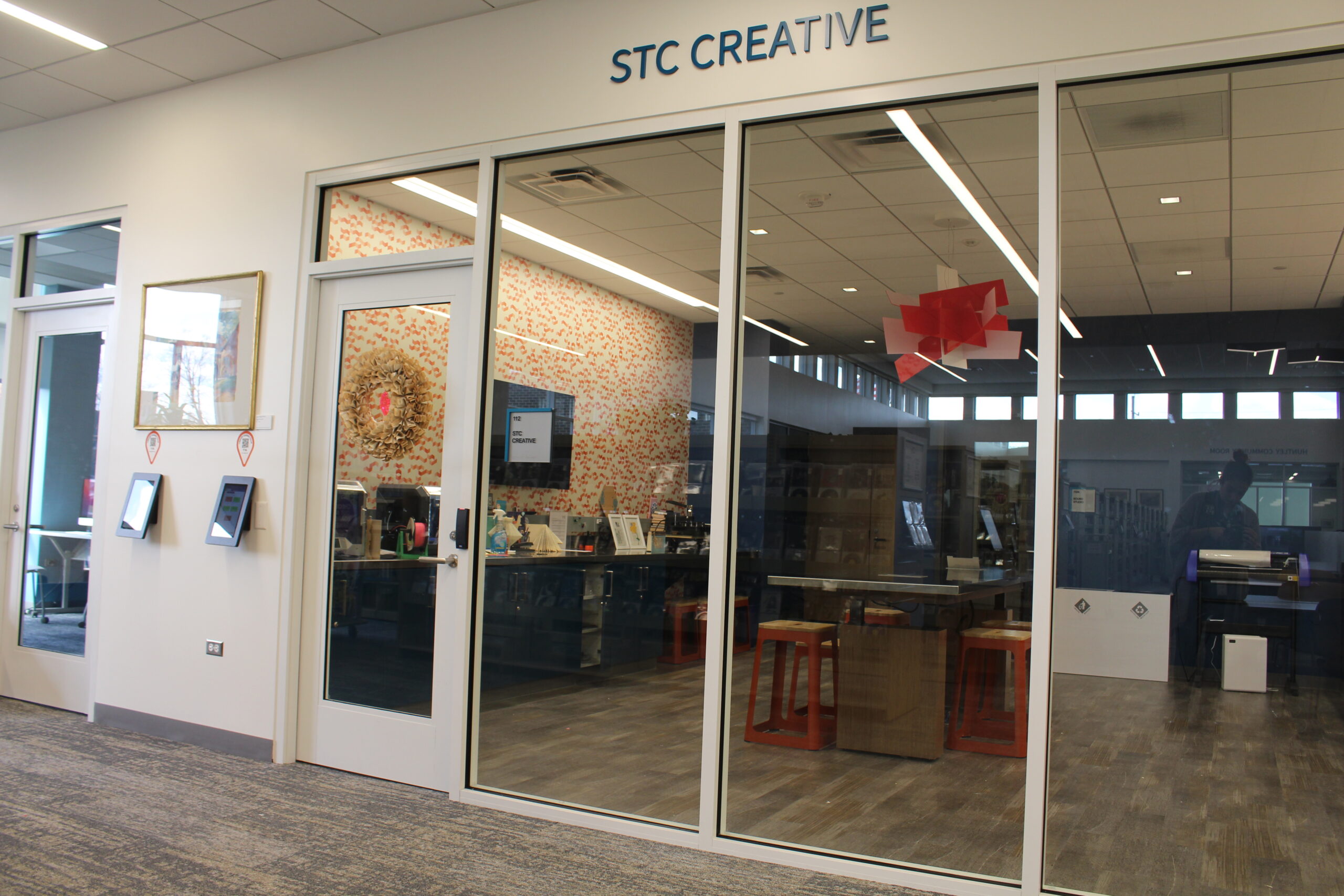 STC Creative is a do-it-yourself makerspace. We provide the tools; you bring your creativity. From traditional crafts to new and emerging technologies, we offer space, tools, equipment, and technology to help the St. Charles community bring creations to life.
Many of our maker tools can be used independently during the reserved time. To use a maker tool, you must first complete either an in-person class or view online demonstration videos posted to Niche Academy. Patrons should be able to work with STC Creative maker tools without assistance from staff.
STC Creative is open by appointment only. Please call 630-584-0076, ext. 208 to schedule an appointment. It's available for St. Charles Public Library card holders and D303 teachers and staff.
STC Creative Equipment and Tools
Dremel 3D Printer
Accepts a variety of filament type
Maximum build depth 10", height 6.7", width 6"
Submit a 3D print request
ELEGOO Mars 3D Resin Printer
UV Photocuring 3D Resin printer
Build Volume: depth 5.08", width 3.15", height 6.30"
The ELEGOO 3D printer is operated by Technology Help Desk staff
Submit a 3D print request
Prusa 3D Printer
Accepts a variety of filament types
Maximum build depth 9.8″, height 8.3″, width 8.3″
The Prusa 3D Printer is operated by Technology Help Desk staff
Submit a 3D Print Request
Glowforge 3D Laser Printer
Cut, engrave and shape designs from a variety of materials
Compatible file types: PDF, SVG, JPG, PNG, DXF
Requires an in-person orientation before use
Schedule An Orientation
AccuQuilt Fabric Cutter
Cuts up to six layers of cotton fabric at once
Dies for creating 6″ and 8″ finished blocks
Choose from a collection of over 70 block patterns
Brother ScanNCut
Cleanly cuts materials such as cardstock, felt, fabric and foam (up to 3MM thick)
Includes a collection of ready-set designs and a built-in scanner
For use with Brother Canvas Workspace
Watch tutorial
Cricut
Cut hundreds of materials accurately
Markers and scoring stylus are also available
For use with Cricut Design Space
Watch tutorial
28" Vevor Vinyl Cutter
Large-format vinyl cutting machine for creating vinyl decals
Able to import custom artwork, your own fonts and custom drawn shapes
For use with SIGNMASTER Cut Basic software
Sublimation Printer
Print your design in color sublimation ink onto heat transfer paper
Transfer your design to a variety of surfaces using the heat press
VEVOR Heat Press
Transfer images onto hats, t-shirts, fabric, ceramic plates, mugs, tiles and more
Watch Tutorial
Small and Large Button Maker
1" and 2.25" manual operation button makers
Watch tutorial
Linoleum Cutters
Ideal for carving linoleum and other hard and soft substrates
Assorted sizes: #1, #2, #3, #5, #6 lino cutters
Screen Printing Frames
8″ by 10″ wood silk screen frames
6″ by 8″ wood silk screen frames
Squeegees
Travor Photo Studio Light Box
Dimmable lights
Four backdrops: black, white, red, blue
Multiple photo shooting positions
Xyron Creative Station
All-in-one adhesive, magnet, lamination machine
This non-electric machine has no warm-up time
Can be used with a variety of materials up to 9" wide
RODECasterPro Mixing Console
All-in-one solution for podcasting
Four microphone inputs for recording audio
Smartphone, USB, and Bluetooth channels for integrating remote guests
Eight sound pads for triggering music and effects
Watch tutorial